What To See?
Saldus municipality has plenty to offer to enthusiasts of history and military heritage!
Memorial Site "Airītes" and Museum of Colonel Oskars Kalpaks
A memorial site and a museum were established at the place of death of the commander of the first Latvian Independent Battalion, Colonel Oskars Kalpaks and three other officers. Everyone is welcome to visit the beautiful museum building, the contemporary and elaborate exposition, as well as the memorial site and the small park near the museum.
The museum's new exhibit is more comprehensive than before and uses new technologies. One part of the exposition is dedicated to the freedom fights and the O. Kalpaks' Battalion, the second part deals with Oskars Kalpaks' progress during World War I, while the third part of the exposition shows the testimony of Oskars Kalpaks' childhood and youth.
There is an audio guide available in three languages – Latvian, German and English. Group tours must be pre-booked by calling +371 22017465.
The museum has a campfire site, a small park and a rope track. By arrangement, groups are also offered the opportunity to bake pancakes and traditional tarts called "sklandrauši".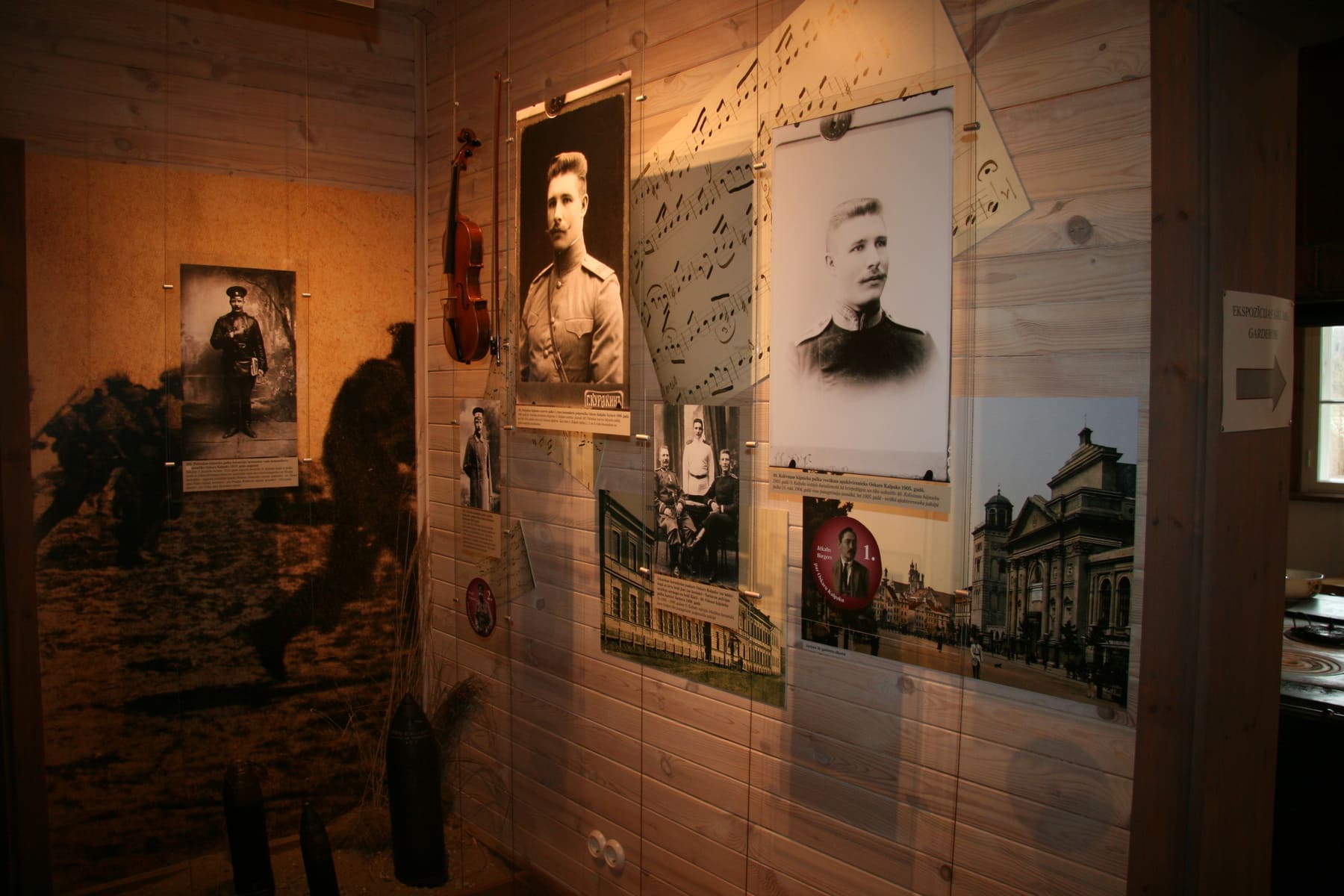 Ezere Local History Repository "Customs House" ("Muitas nams")
Ezere local history repository "Muitas Nams" ("Customs House") is located in a historically significant building where on May 8, 1945, the capitulation act of Nazi German army units encircled in "Courland pocket" was signed. It is believed that World War II in fact ended in Ezere. The exhibition of the repository covers the history of Ezere parish from the ancient times to the present day. There is also a new, interactive exhibition "The End of War in Courland", which depicts the symbol of the end of World War II – the surrender of Courland.
Striķi Hillfort
The Striķi Hillfort is a live history book. Here one can trace the footsteps of many centuries: the hillfort and burial sites of the ancient Semigallians, the cemetery of the Barons von Behr, trenches and bunkers from the war. There is an information stand at the hillfort. The distance from Striķi Manor to Striķi Hillfort is 2.6km.
Former Firing Ground of the Soviet Army in Zvārde
During the Soviet time, most of the territory of Zvārde parish was transferred to the Soviet Air Forces to establish the largest (24.500 hectares) firing ground in Latvia. In Soviet times, it was a restricted area for civilians. The remains of the former air raid control tower can still be seen there.
https://turisms.saldus.lv/wp-content/themes/saldus.sem.lv/img/m